Managing Multiple Locations On Google My Business
As a company with a storefront or physical office, it's imperative to have an accurate and comprehensive Google My Business profile.
But what should you do if you have more than one location, or 100's of locations?
The best approach is to create a business account that provides bulk location management functionality. This allows you to share the management rights of each location with multiple team members.

In true Google fashion, creating a business account is every bit as simple as you'd expect:
Create a new Google account: Rather than use your personal account, create one for your company. It's best to use an email address associated with your business domain.
Create a business account: You can do this by clicking on the menu and navigating to "Create business account." From there, change the name and click "Finished."
Transfer your existing pages: After your business account is setup, you can transfer ownership of any existing local pages.
Assign managers: You can now assign managers for each location, based on your preference of who you want to put in charge. This is done by visiting each individual location within your account.
Setup Location Groups
Location groups (previously known as business accounts) provide a safe way to share management of your locations with multiple users. Location groups/business accounts are like a shared folder for your locations–a simple way to share access to a set of locations with coworkers.
When to create a location group/business account
It's a good idea to create a location group/business account if:
You want to share location management with a co-worker, manager of one of your brands or regions, or an agency
You want to run location ad campaigns
But it's best to limit the number of location groups/business accounts to one account per business or brand. If you are an agency avoid creating location groups for clients that have only one location to manage.
The goal is simplification through the elimination of redundant steps. And by having one company account with delegated access, your brand or business only has to worry about one point of entry throughout the organization.
What is Bulk Location Management?
While it's possible to manually add each location, this is a time consuming process. So, if you have a large number to add, such as 10+, it's best to use the bulk location management feature. Here are the steps for doing so:
Create a table with all your locations: You can download a template via your account. First you will need to click the Add location tab in the right hand side. From the drop down navigate to the Import Locations menu item.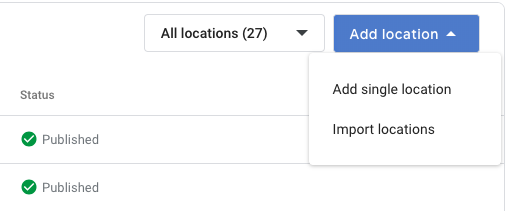 A new window will then pop up with multiple resources for managing and understanding the importing of multiple locations into Google my Business.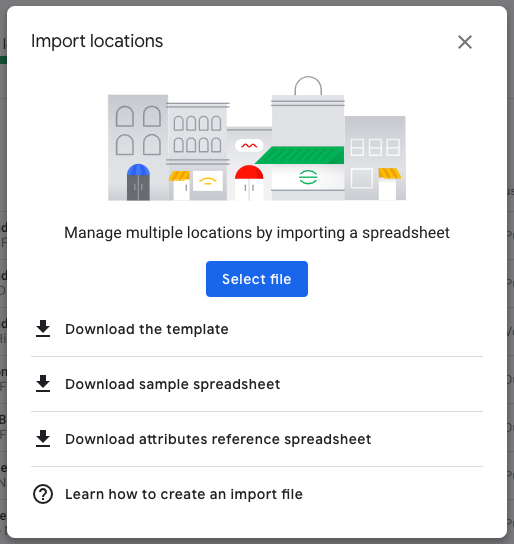 From the Import Locations you will have several template options including Comma Separated Values and Microsoft Excel.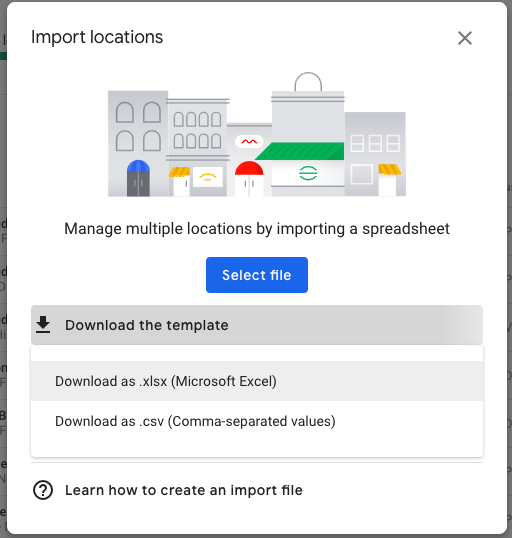 Upload the table: Once you complete the table with the appropriate information, upload it your account. If your file is missing information you will receive the following alert upon uploading the file.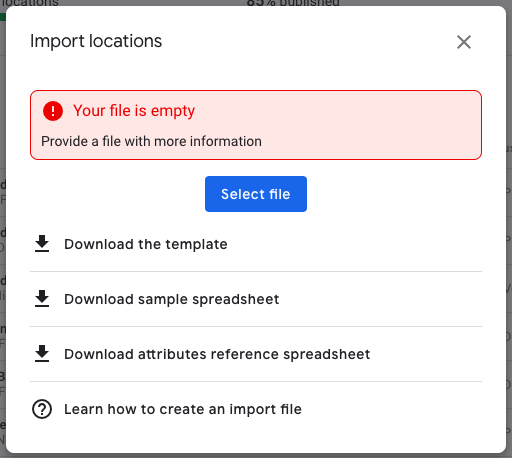 Verify: Bulk verification is also available, thus saving you from manually verifying each location. Note: it can take Google as long as a week to complete the verification process.
Alter your information: If you need to change any location information, download your locations, make adjustments, and upload your table once again.
Does all this sound confusing? Are you struggling to find time to manage multiple locations on GMB?
If so, contact us for assistance. We can answer your questions, provide guidance, and save you from the hassle of setting up and managing multiple locations.