How Artificial Intelligence (Ai) Impacts Search and SEO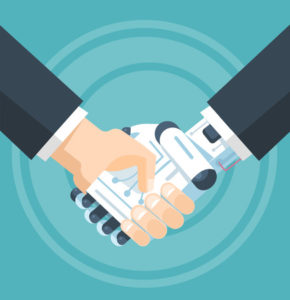 At the beginning of the internet era, search results were erratic. Companies like AOL and Yahoo! did their best to interpret what they believed users wanted.
Yet, it was common to get completely unrelated search results.
New companies like Google and Bing started using artificial intelligence (AI) to improve the search algorithms to help customers find better search results.

It was not long before the results rapidly improved. Today we are in the midst of another AI revolution in search.
The businesses that succeed today will use search engine optimization techniques based around these ideas.
5 Ways to Benefit from AI and Search Engine Optimization
1. Keywords are dead, intent is not
Google moved beyond keywords a few years ago. This process intensified as users explored different devices to use for their searches.
For example, you can see a lot of variation between a voice search on a mobile device and a text search on a desktop computer.
Artificial Intelligence helps search engines match their needs. Every need search adds a data point to help them improve their understanding of how humans search the web.
The AI is getting so smart that even Google and Bing have trouble ranking their own products first on search engines today.
As you can see from the search below for web analytics, Google Analytics ranks near the bottom of the page.
This is a huge problem for Google as they had trouble competing on their own search engine to rank higher. If Google struggles with this, it means other companies must be even more on the ball if they want to get the search traffic they need for their business.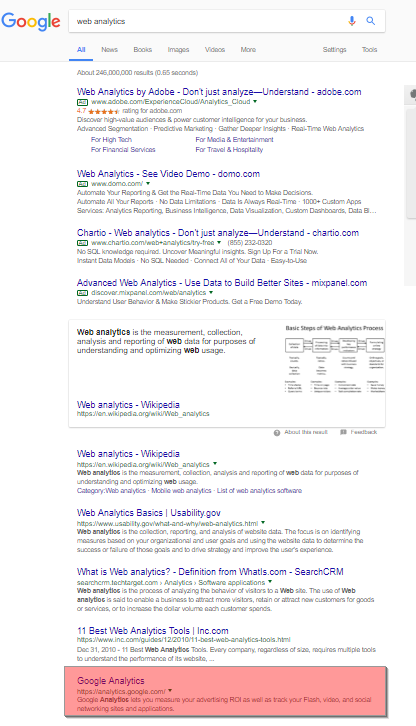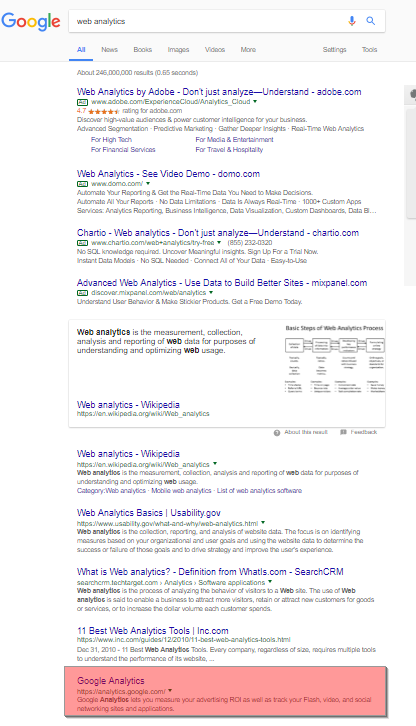 Experts agree it is vital to avoid keyword stuffing and other black hat strategies that no longer work.
Instead, as Anil Agarwal from BloggersPassion.com said, "User intent is still a top priority. If you're not focusing on giving the best experience to your target audience through your content, no matter what tactics you adopt, they are of no use."
The best way to engage consumers is to write naturally. When you speak like a human, people who search like humans find your content. This was a problem early on in search. Users could stuff in some keywords and the gobbledy gook that came up was enough to fool Google's search engine to rank them high.
Factors like location, date, time, and device make the intent of a search different for each user.
If you research the new Star Wars movie from your desktop then you want to learn more about the movie; check the reviews, see the trailer.
However, if you then check out the movie on your phone, it is more likely you want to know where the nearest movie theater is and the times for the movies.
This is the power of intent. It is the reason AI plays such a vital role in search engine optimization today. The computer must read all these factors in addition to the searchers query to come up with the best information.
2. Predict what they do next
It is not only enough to know the users' intent for their search. They also want to know what users want to do after they finish searching. For example, what do users do after they go through your content?
For example, if you search for the phrase characters in game of thrones the first result is Wikipedia.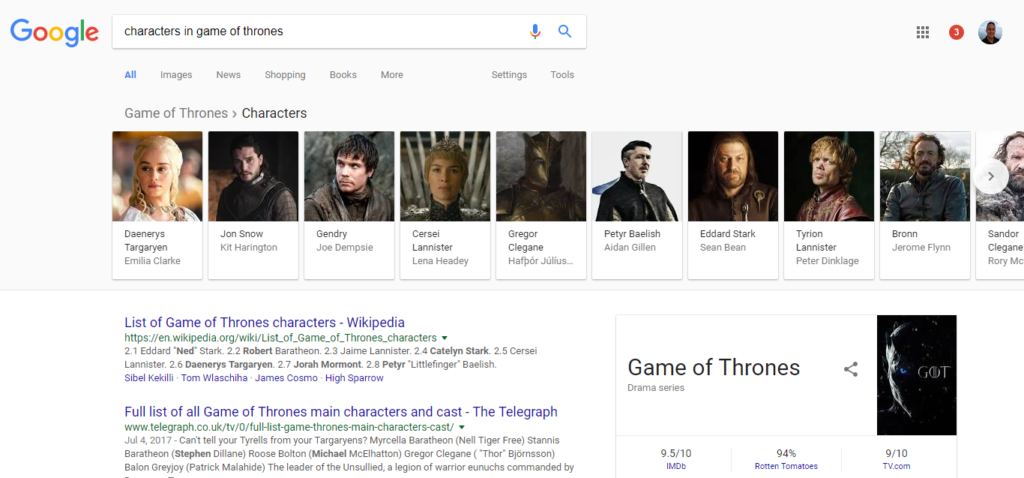 This should not be surprising, because Wikipedia not only lists the Game of Thrones characters. They also have links directly underneath this for secondary characters like the High Sparrow and Sibel Kikelli (Shae) in the movie.
The importance here is that using Schema data Wikipedia is predicting what other tidbits of information is important to searchers.
Google wants sites that keep your attention. This means improving the time on site as well as decreasing the bounce rate to your website.
Visitors who stay for 3-5 seconds and bounce off to another site are not valuable to Google and you, because your content is not relevant or good enough for them to keep looking at right now.
Think of sites you visit and 30 minutes later you wonder where all the time went? You just went down the rabbit hole of great content on a website. Your site needs to deliver this type of user experience.
Google uses this information to find how valuable your site is to users.
3. Understand the buyer cycle
If you want to get users excited about your content, then segment your content to specific phases of the buying cycle.
Users typically go through three phases of the buying process: Curiosity, Interest, and Decision. The names vary a little if you are reading about this on HubSpot or Facebook. However, the process is similar.
Curiosity- A visitor stumbles across your site because of your paid or organic efforts. They are not ready to purchase and may not even know anything about your industry. However, if you answer their questions you can keep them interested.
Interest- You piqued a visitor's interest in the Curiosity stage. Now, you need to give them more information specific to your products or services.
Answer the questions about how your products or services help your target market. Give them the benefits of your services.
Decision- Before someone purchases a product they want to make sure they made the right decision. Therefore, they research your competitors and evaluate how you compare. Provide your customers with testimonials, guarantees, warranties, and more incentives at this point to encourage them to move forward.
By creating content for each stage of the buyer cycle you create deeper search content to relate to customer's needs across the spectrum.
4. Niche down
If you want AI to interpret your site correctly, you need to be very specific to how you help customers. You also need to specifically state who you help.
By niching down your site, you give specific information Google can use to send you targeted traffic to your website.
Optimizing your site does not mean finding more keywords like it did in the past. Instead, you can hyper focus on specific audiences to get more targeted traffic from visitors who will stay on your site longer like we discussed before.
RankBrain is an algorithm tool to help measure deep learning more accurately, so businesses can produce the right content for the audience.
This helps businesses group good sites from bad to decide which sites have the best chance of answering users' searches.
5. Real Time Data
As we have mentioned, data is the backbone of the AI revolution for search engine optimization.
The next step is real time data. AI helps businesses aggregate and organize search terms in real-time, so you can test what location, date, or device works best with each search term.
You can then figure out the phrases with the highest ROI.
Final Thoughts
Artificial Intelligence changes search engine optimization because it allows the data search engines collect to be analyzed and interpreted at once to provide better results for users.
If businesses want to benefit from this revolution, they need to work on improving how they provide content to their users. The more they can fill their needs, the more they will see search traffic coming to their website.