Comprehensive List of Search Engines You Can Use Instead of Google
Many people are familiar with and have considered being found in Google search results.
But, not as many have thought about other search engines that can deliver visitors.
Google Remains Top Dog
Regarding the beautiful world of search engines, Google remains the top dog. Since 1998, the "Big G" has been leading this industry. While there have been many competitors over the years, some of which are still hanging around, it's Google that has successfully captured most of the search marketplace.
But does this mean you should overlook other options? Not. With the right approach, it's possible that you could drive organic traffic to your website via Google, among other search engines.
According to ComScore's most recent desktop search engine rankings, "Google Sites led the explicit core search market in February with 64 percent of search queries conducted." Overall, this proves one thing to be true: Google has captured most search traffic.
However, you don't want to ignore the other 36 percent. Here is a breakdown of the search engines that make up the "best of the rest."
Microsoft sites: 21.4 percent
Yahoo sites: 12.2 percent
Ask Network: 1.6 percent
AOL: 0.9 percent
These numbers are nowhere as extensive as Google's, but it does show that people are using other search engines.
Top Google Alternatives for Search
Google Sites secured 10.8 billion explicit core searches in February 2016. Microsoft secured second place with 3.6 billion searches, followed by Yahoo at 2 billion, Ask Network at 273 million, and AOL with 145 million.
Is Microsoft a True Threat?
Microsoft's search engine, Bing, has the best chance of closing the gap on the industry-leading Google.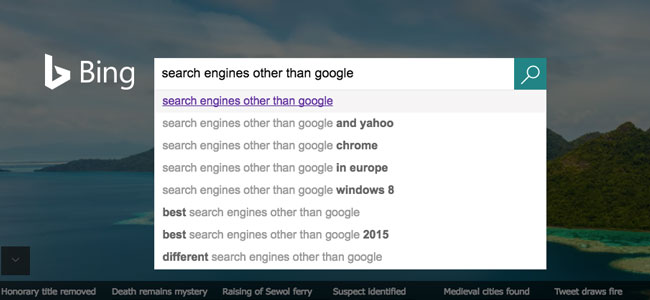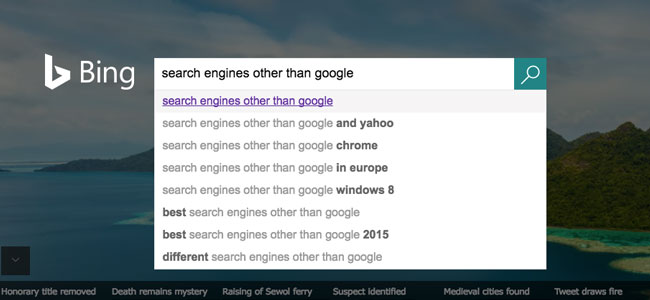 While Microsoft and its Bing search engine have a long way to go, the company has made several moves to make up ground. For example, it formed a global partnership with Yahoo. Microsoft CEO Satya Nadella spoke on this, noting:
"Our global partnership with Yahoo has benefited our shared customers over the past five years, and I look forward to building on what we've already accomplished together."
DuckDuckGo
There is another search engine out there that is making waves: DuckDuckGo.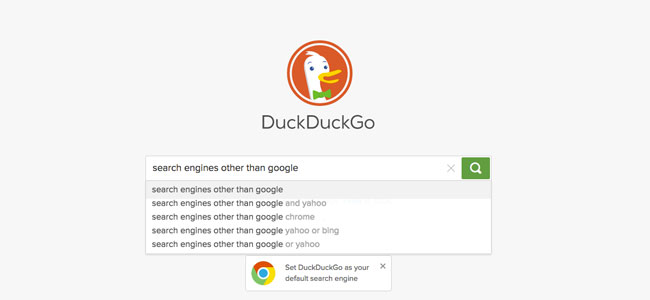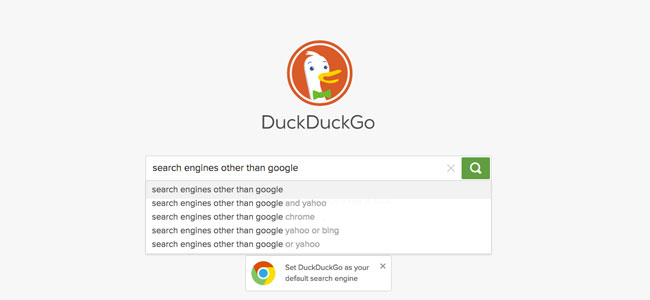 The company, founded in September 2008, has taken a unique approach to search. Its slogan says it all: "The search engine that doesn't track you."
Thanks to its privacy angle, DuckDuckGo has become a force in the search engine industry. It may not have the same name recognition as the five companies detailed above, but that hasn't stopped it from attracting users from across the globe.
The average number of daily DuckDuckGo queries is rising, with the search engine quickly closing in on those established much longer.
Apple Maps
Apple Maps is a web mapping service developed by Apple Inc. It is the default map system of iOS, OS X, and watchOS. It provides directions and estimated arrival times for automobile, pedestrian, and public transportation navigation.
Maps is being opened up to third-party developers in what could ultimately be a big update. Given that one of Apple Maps' problems has long been having worse listings than Google Maps, opening Maps up to third parties could go some ways toward resolving that.
Apple Maps vs. Google Maps
In particular, Business Insider found that Apple showed twice as many restaurants and shops as Google. While Google's design emphasizes utility, Apple's emphasizes a more friendly experience.
Both maps have strengths and weaknesses, and it's hard to say which is better, but make sure your information is correct on Apple and Google.
General Search Engines
This is a list of search engines, including web and metasearch engines.
AOL Search*
Ask.com**
Baidu
Dogpile***
Ecosia
Exalead
Excite*
Gigablast
HotBot
Lycos
MetaCrawler***
Mojeek
Qwant*
Searx***
Startpage.com**
Swisscows*
WebCrawler*
Yandex
Yippy***
* Powered by Bing
** Powered by Google
*** Metasearch engine
Other Alternative Search Engines
A list of what else is out there in the non-Google world.
Other Dead Search Engines
Some of these dead search engines still have their names and may be accessible on the Web, but their original indexes have probably been replaced.
DMOZ
Ask Jeeves
Deja.com
Direct Hit
Excite
Excite News
Go
Infoseek
InvisibleWeb.com
Flipper
iWon
Lycos
Magellan
MessageKing
NBCi (formerly Snap)
Northern Light
Openfind
Teoma
WebCrawler
WebTop
HotBot
Why Should You Care?
If increased organic traffic is your goal, it only makes sense to focus a large amount of resources on Google. This search engine can drive the most traffic to your website, so it deserves your attention.
The other search engines can supplement your Google traffic, doing their part in boosting your organic traffic. Here are a few things to consider:
When added up, traffic from "smaller" search engines can equal what you receive from Google.
Many people don't optimize their website for search engines other than Google, meaning it can be easier to reach the first page.
The other search engines are spending more time, money, and resources on increasing their market share, which could impact how people search in future years.
Questions to Answer
Now that you understand that Google is not the only search engine that deserves your attention, it's time to answer a few questions:
How well does your website rank in other search engines, such as Bing and
Yahoo?
Do you understand how Google's algorithm differs from other search engines?
Are you familiar with how you can optimize your website for success in all the major search engines?
By answering these questions, you may soon realize there is a big opportunity lying ahead.
Conclusion
Google may be the king of the search engine industry, but that doesn't mean other companies are rolling over and giving up.
There is a lot of competition in this space, with all the major players looking to make up ground.
As a marketing professional, this should mean one thing to you: there are search engines others than Google you should care about. With the right SEO strategy, you could take advantage of other search engines as a means of increasing traffic to your website.