SEO Basics: How to Submit URLs & Content to Google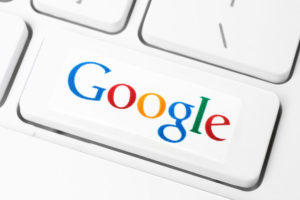 Did you know there are more than one billion websites on the world wide web?
Along with those that already exist, many more types of content are pushed live every day of the week.

Users' devices and search context are moving beyond the desktop into the world of IoT (Internet of Things), a network of mobile devices, vehicles, and other items embedded with electronics, software, sensors, and network connectivity which enable these objects to collect and exchange data.
In order to maintain their market share in search results, Google Search is also progressing by delivering results that support users beyond the desktop: from making a dinner reservation, to calling a business's customer service number, to selecting the perfect recipe while shopping at the store.
What content do you have?
We typically think of Google as a search engine for websites. But its algorithm is used to find and sort relevant information from a variety of content sources like, apps, videos, podcasts, maps, and local information, just to name a few.
Do you have new content that you want Google to know about? Here are a few ways to manually submit your site to search engines.
Submit your website or app
Submit your business
Submit your digital content
Submit local information
Submit media
Submit Your Site to Other Search Engines
A lot of people are familiar with and have considered being found in Google search results. But, not as many have thought about other search engines that can deliver visitors.
Submit Site to Bing
Microsoft's search engine, known as Bing, has the best chance of closing the gap on the industry leading Google. While Microsoft and its Bing search engine have a long way to go, the company has made a number of moves in an attempt to make up ground so it pays to get indexed with them as well.
Submit URL to Bing
You can submit the URL of your site to Bing and sign up for Bing Webmaster Tools to learn if your site has been indexed and is getting traffic from Bing already.
After you login to Webmaster Tools you can quickly submit your homepage URL. Also be prepared to have the .XML of your site ready as well. After submission you will have to verify ownership of your site by embedding an HTML tag into the header of your website. This is easy to accomplish by using a plugin like Yoast. Once its verified you are good to go!
Submit Site to Yahoo!
Since 2010, Yahoo search has been powered by Microsoft's Bing search engine. After you follow the instructions above for Bing, your site will begin to appear in Yahoo! as well.
How to Ensure Search Engines Instantly Index Your Website
There is a lot you can do to change the way your search results show up across Google. Optimizing your search appearance may have a major impact on your ranking, and increase the revenue to your business.
Did you know there are more than one billion websites on the world wide web? Along with those that already exist, many more are pushed live every day of the week.
With this in mind, you may be worried about all the competition that exists.
While your competition deserves plenty of your attention, there's something else you must first do: make sure Google instantly indexes your new website.
Let's put it this way: if Google doesn't know your website exists, there is no way for you to generate organic traffic via this search engine. Subsequently, you're missing out on a big opportunity.
Follow these SEO Tips
No matter who you are, where you live, or how much money you have, there is no way to force Google to index your new website. Fortunately, there are some simple tips you can follow to ensure that this happens:
1. Create a Sitemap
This is nothing more than an XML document that lists all the pages on your website. Furthermore, it tells Google when new pages have been published and how often to review existing pages.
Note: if your website is one of the millions powered by WordPress, use the Google XML Sitemaps plugin to automatically generate a sitemap.
2. Submit the Sitemap
It's one thing to create a sitemap, but another thing entirely to take the right step after doing so. This step is simple: submit the sitemap through your Google Search Console account.
Once again, this only takes a few minutes. From there, you can be rest assured that Google is aware that your website exists. This doesn't mean every page will be indexed right away, but it's a big step in the right direction.
3. Submit Your Site's URL
While there are many ways to bring your content to a search engines attention, this step only takes a couple seconds. Even better, it can be one of the most powerful steps you take.
4. Go Social
Search engine crawlers make their way to your website via links. What better way to get quick links than by creating social networking profiles that point back to your site?
You can start with Twitter, Facebook, LinkedIn, and Google+. These four should be more than enough to give you a quick boost.
5. Focus on Offsite Content
There is no denying the importance of creating high quality content for your website. Even so, this may not do much in regards to getting your site indexed.
Speed up the process by creating offsite content. For example, you can submit guest posts to other blogs in your niche.
Or maybe you can create a press release announcing the launch of your new website.
Any high quality link that points back to your site is one that can speed up the indexing process.
Conclusion
In a perfect world, search engines would immediately index every new website. Unfortunately, you can't assume this will happen.
Follow the five tips above if you want Google to instantly index your new website. You don't need to do all these things, but it never hurts to "go the distance."
Do you have any other suggestions? Have you implemented another technique for getting your new website indexed? Share your thoughts in the comment section below.