Google Fred Algorithm Update: What You Should Know
Got Fred?
Every couple of months Google rolls out an update that has webmaster's deleting pages or high-fiving co-workers.
It seems on March 8th, Google rolled out another one thats being called Fred.
Some sites saw their traffic drop by as much as 90%.

Google said the techniques Fred went after specifically are mentioned in their webmaster guidelines.
Types of sites effected (so far):
Shallow content
Advertising heavy
Affiliate heavy (ie Amazon etc…)
Some local business sites
Search Engine Roundtable posted a list of public sample sites that were potentially hit by Fred.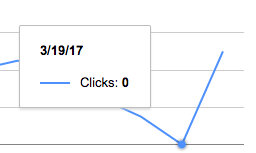 If you are reeling from a sudden, or slow, drop in traffic please don't do the following…panic.
Panicking includes the following:
Deleting pages anxiously
Tweaking URL structures compulsively
Simply doing anything at this point
Doing anything at this point is just guessing.
Important news about the Fred update
@i_praveensharma @rustybrick @JohnMu we have 3 updates a day in average. I think it's pretty safe to assume there was one recently…

— Gary Illyes ᕕ( ᐛ )ᕗ (@methode) March 9, 2017

Search Engine Roundtable: Google Has Now Confirmed The Fred Algorithm Update – Gary Illyes from Google now officially confirmed the update on Twitter, more details at the end of this story.

Search Engine Roundtable: Large Google Algorithm Ranking Update: Black Hat Related? – There appears to be a large Google ranking or algorithm update happening right now in the core Google web search results.
Search Engine Land: New, unconfirmed Google ranking update 'Fred' shakes the SEO world – The webmaster and SEO community, along with the automated Google tracking tools, all show strong signs that there was a Google algorithm ranking update.

Search Engine Land: Did Google's Fred update hit low-value content sites that focus on revenue, not users? – Google won't comment about the "Fred update," but based on our own analysis, many affected sites saw up to a 90% drop in traffic.
Search Engine Roundtable: Google Fred Update Targets Ad Heavy, Low Value Content Sites – The sites that got hit also saw 50% or higher drops in Google organic traffic overnight.
How to recover from the Fred Update
Most people don't like this answer but forget the algorithm and stick to the Google Webmaster guidelines.
The best thing you can do is understand how Google's algorithm works, create a great site resting on a foundation of solid content. Following the General Guidelines will help Google find, index, and rank your site.
There are 100s of ranking factors. It's never just one ranking factor that affects a site. Stop looking for the golden egg. Google rolls out new updates consistently. Most of them target sites that are over optimizing.