Fundamentals
On-Site SEO
On-Page Ranking Factors
Title Tag
Meta Description
Alt Text
Duplicate Content
Robots.txt
Robots Meta Directives
Schema.org Markup
HTTP Status Codes
Page Speed
Conversion Rate Optimization
Domains
URLs
Canonicalization
Redirects
Related Resources
Broaden your SEO Knowledge:

Meet The Team
What is a Meta Description?
The meta description (sometimes called a meta description attribute or tag) is a snippet of text, describing the content of the webpage, for users and search engines, up to 320 characters and contained within an HTML tag or element.
Search engines, like Google, can choose to display the meta description in search results or bypass your meta description and show whatever they want or deem more important for the specific search query.
But without a doubt optimizing your meta descriptions is an important factor of on-page SEO.
When it comes to the wonderful world of search engine optimization (SEO), every detail is important. If you overlook one detail – no matter how inconsequential it appears – it could have a negative impact on your rankings and traffic.
The importance of meta descriptions should never be overlooked.
What does a meta description do?
According to Google, the goal of the snippet and title is to best represent and describe each result and explain how it relates to the user's query.
Although Google admits to not always using the meta description as a part of their rankings algorithm, they do still support meta descriptions and include them as snippets in search results.
The meta description is an HTML tag, here's a basic idea of what a meta description looks like:

The point of a meta description for your page is to get Google visitors to click your link. In other words, meta descriptions entice people to click on your link from search engines and improve your click-through-rate (CTR).
To understand how this affects your website, let's examine a basic definition as shared by Moz:
"Meta descriptions are HTML attributes that provide concise explanations of the contents of web pages. Meta descriptions are commonly used on search engine result pages (SERPs) to display preview snippets for a given page."
With that in mind, let's breakdown the definition into two segments:
A meta description is used to provide an explanation of the content of a web page. For this reason, it should be accurate and concise.
A meta description typically appears on a search engine result page, giving people a better idea of what the content is about. The words you choose will have a lot to do with whether or not somebody clicks through.
Examples of meta descriptions in search results
Depending on the search engine, SERP's have a different look and feel. So keep that in mind when you go to optimize your meta descriptions. Sites like Google have a tendency to include more clickable real estate than sites like Yahoo and DuckDuckGo.
As you can see sites like Bing pull in more user rich data from outside sites like Yelp. So keep that in mind when you are making changes. And if any of the displayed information is outdated make sure to update it.
Google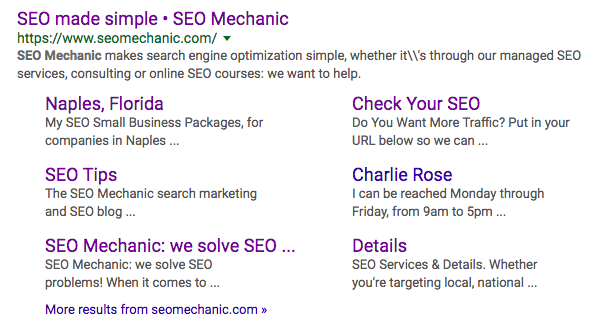 Bing


Yahoo



DuckDuckGo



Elements of a clickable meta description
Although search engines say meta descriptions don't have a direct impact on search engine rankings, they are an important aspect in driving traffic to your website. Clickthrough rate (CTR) can be used by Google to gauge how well your keywords and web pages are performing.
Important Tip: Think about meta descriptions as an advertisement for your website.
Your primary goal is to provide a solid description of the web page, however, it's important to use your primary keywords as well. Here are three other things to keep in mind:
The meta description should be relevant to the web page.
The meta description should be unique (don't use the same format for every web page).
The meta description should include your primary keyword(s), but you don't want to
overdo it.
The meta description can be any length, but Google generally truncates snippets ~320 characters (this limit increased in December 2017).
With all this out of the way, here's a basic idea of what a meta description looks like:

When somebody comes across your web page in the search results, they will see the following, along with your title:
"This is where you include the description of your web page."
How to Improve Meta Descriptions on Your Pages
What's so hard about creating meta descriptions?
While this doesn't have to be a difficult task, there's more to it than meets the eye. Here is some additional guidance:
Include a call-to-action: Don't write the same description for every page. Take time to customize it like it was ad copy.
Include structured content: Savvy people can even embed short codes to automatically populate the page or product with the SKU code, pricing or primary category.
Contain the focus keyword: Including the primary topic of the article in the meta descrition can help to improve your CTR.
No longer than 320 characters: If you exceed this maximum, your description will be cut short.
Every meta description should be unique: Avoid the temptation to be lazy and use the same text on every page.
Meta descriptions are not part of Google's ranking algorithm.
Brand your titles: Consistently include your site name at the beginning or end of each page.
Avoid keyword stuffing: It's helpful to have the keyword in the title but avoid repeating it multiple times.
Test your meta descriptions
If you have specific landing pages that generate a good amount of organic traffic, consider testing different meta descriptions to see if you generate a lift in click-throughs from search engines. Mix up different description lengths, calls-to-action and keyword positioning.
Google does not use the keywords meta tag in web ranking
Our web search (the well-known search at Google.com that hundreds of millions of people use each day) disregards keyword metatags completely. They simply don't have any effect in our search ranking at present.
Google might display alternative text
If Google thinks it can give the user a better description of the page than Google might possibly pull together separate meta descriptions and titles than what you had intended. They are like a pitch that convince the user that the page is exactly what they're looking for.
If we've detected that a particular result has one of the above issues with its title, we may try to generate an improved title from anchors, on-page text, or other sources. However, sometimes even pages with well-formulated, concise, descriptive titles will end up with different titles in our search results to better indicate their relevance to the query. There's a simple reason for this: the title tag as specified by a webmaster is limited to being static, fixed regardless of the query.
How to improve meta descriptions on Your WordPress site
If you are using WordPress on a self-hosted domain, you are in luck. Meta descriptions can be easily added to your content using simple (and free) plugins such as Yoast SEO. Other themes and platforms like Squarespace and Wix have SEO options built in – if not, do a search for your website's platform and SEO plugin, add-on, or extension.
Final thoughts on meta descriptions
Although Google claims meta descriptions don't impact search engine rankings, they are still important to your website from an on-site SEO point of view. If you don't put the necessary time and effort into your meta descriptions, you'll find that search visitors don't click through to your site as often as you would like.
Now that you understand the finer details of meta descriptions, you should understand the importance of providing the right text for each web page.
Once you know what does and doesn't work for your site, you'll find it easier to create compelling meta descriptions that improve the search experience and boost your click through rate.
For more help with meta tags, SEO, and CTR, check out these additional resources:
Check to make sure your meta description isn't too long with an SEO preview tool
Put our skills to work
Related resources