It's Time to Replace Traffic for Conversion
Does increase website traffic increase sales?
Well, technically, yes.
Assuming your conversion funnel is optimized enough, an increase in visitors will equal additional sales.
But what if the people visiting your site were window shoppers, or worse, spam bots, not interested in making a purchase?
Would that traffic still be valuable?
Not!
Getting clicks but not conversions?
Have you ever logged into Google Analytics on a Monday morning and found a huge traffic spike waiting for you? But is that traffic real?

Sadly there are websites (that shall remain nameless and linkless) peddling services for "Real USA Traffic," "Unlimited Real Traffic," and my favorite, "Keyword Targeted Organic Web Traffic for $5".
The traffic is excellent.
But you shouldn't be interested in more traffic. You want conversions, not window shoppers. Which means you need the right traffic.
Even brick-and-mortar stores track conversion rates with tools like people counters, to measure the number of people traversing a certain passage or entrance.
The Value of Better Website Visitors
It's an age-old lesson that too many businesses choose to ignore.
Although sacrificing the former for the latter may grant you a few short-term vanity traffic gains, you'll quickly run out of steam when visitors fail to convert into customers.
Favoring quality visitors over the number of visitors will increase your company's reputation and product loyalty, keeping your business website traffic and conversions sustainable in the long run.
Website traffic should not be the primary key performance indicator. But it is a genuine number to track, measure, and track ROI.
It's also an excellent tool for determining your site's popularity and readability.
At the end of the day , focus on conversions generating income for your business and not vanity metrics.
At SEO Mechanic, we explain to clients that it's about better traffic, not just more traffic.
Below is a quick scenario.
Website A: Ranks highly in niche Google search results, Effective call to action, and on-site copy that converts a high percentage of visitors into conversions, but they only bring in minimal traffic.
1000 monthly visits * 80 conversions = 8% Conversion Rate (CR)
Website B: Ranks for non-specific Google search results, puts out well-received content and brings in paid advertising. They do outstanding with web traffic yet convert a minimal number of visitors.
10000 visits, 80 sales = 0.8% CR
This illustration shows why vanity marketing metrics, like website traffic, should not be the primary KPI for determining success, especially with SEO.
Well designed SEO campaigns should eliminate irrelevant traffic from your web site analytics.
By focusing on specific keywords and crafting content for your audience will deliver accurate, tangible results. Not just big numbers.
Understand Your Traffic Numbers
Don't let your website be a target for fake traffic or generate traffic for keywords and topics that won't benefit your business.
The example below is what can happen to a regular website with irrelevant/malicious organic search traffic. The business illustrated below was for an assisted living facility that launched a new landing page with interactive videos on their facility.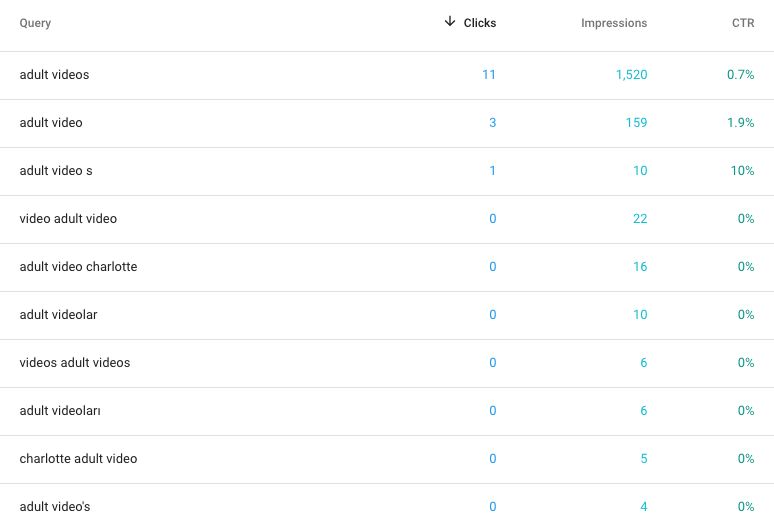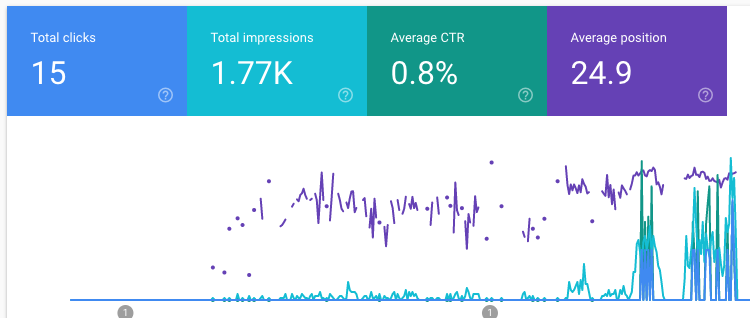 Since their website content highlights adult and senior topics, Google made the association that their video page qualified to be shown for "Adult Videos."
Thus sending a huge spike in traffic. But for search terms, they don't want to rank for.
Will this type of website traffic convert into sales?
No!
Does this traffic look good without understanding the context of the source?
Yes!
Could a shady marketer sell this boost in traffic due to their diligent SEO efforts, aka black hat SEO scam?
Yes!
Sadly the above situation happens too much to unsuspecting business owners.
Bloomberg reported in a 2015 story:
"Fake traffic has become a commodity. There's malware for generating it and brokers who sell it. Some companies pay for it intentionally, some accidentally, and some prefer not to ask where their traffic comes from."
Fake website traffic is generated by click fraud, spam bots, or software, not by real people. This traffic will never result in a sale. So from a business standpoint, it's useless. But don't worry, even Google struggles with fake traffic problems.
Click farms are usually located in developing countries, such as China, India, Nepal, Sri Lanka, Egypt, Indonesia, the Philippines, and Bangladesh.
Use Google Analytics to Learn about Visitors' Onsite Needs
Businesses no longer benefit from knowing how many people visited their website. Now the questions are:
How long did the user stay? Traffic for traffics' sake is pointless if it doesn't become a customer. Things like bounce rate and time on site let us build out a visitor profile.
What is the conversion rate? This doesn't have to be a purchase, but it can also include contact form fills time on-site goals or designated page goals.
How much does this traffic cost? Depending on your marketing efforts, you are probably paying somebody or something. It could be Google AdWords, content writers or in-house SEO teams. Regardless this is a real cost and should be attributed to your traffic.
Where is the user from? Analytics provides several geographical dimensions, such as City, Country, Continent, etc. The values for these dimensions are automatically derived from the IP address of the hit, which is convenient but also has a few drawbacks.
Setup Google Analytics filters. While many features make Google Analytics tick, here's something to remember: the generated data may not be as accurate as possible. Fortunately, you can use filters to prevent this from causing problems in the future.
Example of Filtered referral traffic in Google Analytics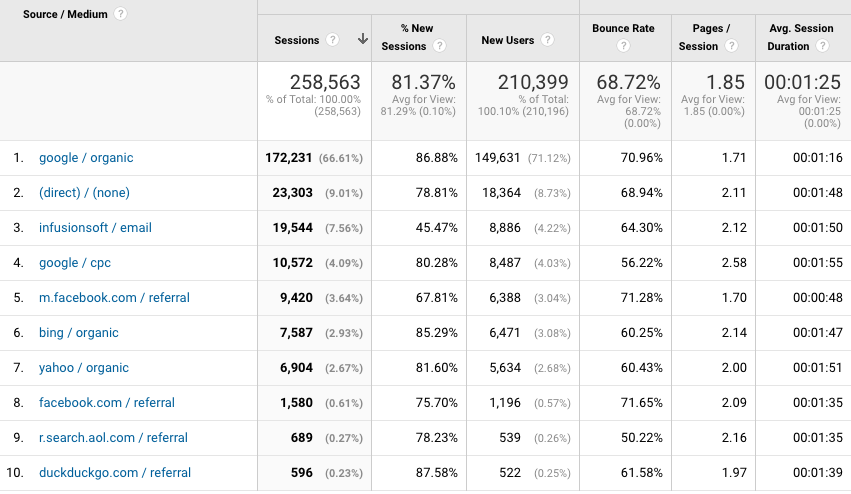 Example of Spam referral traffic in Google Analytics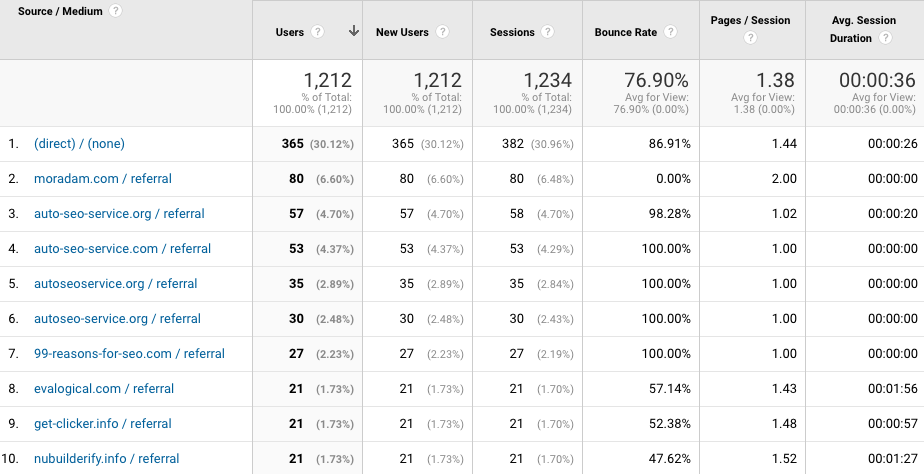 It's not always cut and dry, but Google Analytics is a great tool to help you identify fake traffic. Check out the following options under Audience Overview for potential red flags:
Bounce Rate
Average Session Duration
Pages/Session
New Sessions
Geo Location
Review Google Search Console
How to identify pointless traffic in Google Search Console
Here are a few tips for spotting bad organic traffic in Google Search Console:
Queries
Pages
Countries
Compare dates
Tips to Improve Your Conversion Rate
The best way to improve your website traffic is to enhance your content. Let's face it; nobody wants to read or share irrelevant information on the internet (except spam bots).
Below are a few simple tweaks to help you increase and refine your inbound traffic.
Improve your on-site content: Start by cleaning up your on-site copy and grammar mistakes. During the review, look for opportunities to expand on the current content. Later you can go back and re-write it, delete it, or 301 redirect it.
Better keyword research: Take time to make a list of what products and services drive the most money in your business. Then put together a list of blog topics that would appeal to people looking for your products and services in search engines.
Clean up your reporting: Review your analytics and search console data. Verify that your site is receiving and recording viable and real traffic. It's all about conversions and revenue. (more details below on cleaning up your analytics)
The above-mentioned tips are hardly totally inclusive of everything you can do. But they are foundational changes you can make to start improving the traffic to your website.
Final Thoughts
We can all agree that < intense>website traffic is of absolute importance when it comes to making money online.
Without this, your business entity will sit on the web, doing nothing and not serving its purpose.
But make sure you know what types of traffic are visiting your website. And do your best to ensure you only track actual website visitors.