SEO Checklist
While Google local strategy deals with reviews and citations, a true organic search strategy revolves around quality content, keywords, and inbound links.
Step 1- Getting a domain
The first step in getting search traffic to your website is to buy the right website domain name. Your domain name is like your internet address.
For your domain name, make sure you purchase the right keywords for your website, so Google can find you. You can also purchase a branded domain with your company name. However, you should have at least one website with search terms in it to help you drive traffic.
Here are three tools to help you with your domain name search.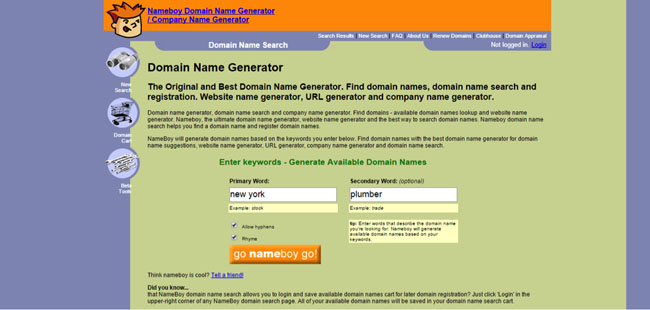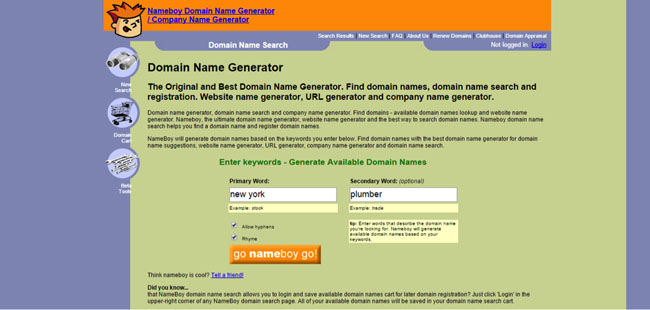 Nameboy – The first tool helps you generate names for your domain. You can combine keywords like "New York" and "Plumbing" to see what the best domain names are for your business.
KeywordTool.IO – The next tool does something similar, and provides a long list of keywords that can be optimized for Google, YouTube, and Bing.
These two tools are invaluable if you want to get exposure for your business from the right domain keywords.
GoDaddy – While the first two tools help you find a quality domain name, GoDaddy is a registrar where you can search if that domain name is available for purchase.
It is best if you find the domains from the keyword search tools listed above and then do the search on GoDaddy. If possible use the .Com, .Net, .Org, and .Biz Top-Level Domains.
Furthermore, purchase misspellings and hyphenations as well. Product and brand name domains can be added to the keyword.
Step 2- Update your website and include additional pages
Like we mentioned before, content is king with search engines. Start by adding relevant pages to your website, including about, services, and other useful pages full of content.
Next, make sure you add a blog, so you can continually add more content to your website. Also, connect your website to Google Webmaster and Analytics.
Finally, include a sitemap of your website, so Google understands the structure of your site. If you are using a platform like WordPress you can use Local SEO plugins like Google XML Sitemaps diagram your pages outline for Google.
If you do not have a WordPress website, then use the Google Webmaster Tools XML Sitemap Generator to create a map of your website pages.
Step 3- Optimize website
Next, optimize your new pages for search engine traffic. Expand the keyword research you did in the first step with your domain name, and use this to optimize each website page.
Each page should include the following characteristics to improve your chances of getting found on Google.
These include:
Title tag – This is the main keyword for each page and has the greatest impact on your pages search results.
Header tags – Besides the title tags, you also have header tags that describe the page in further details. Header tags highlight important parts of the page.
Description – Which brings up another item you need. A short description of 156 characters or less describing the page.
Alt images – If your page is not found by text, then make it easy for users to find you with an image search on Google. Alt images tag your website images with strategic keywords to increase your traffic from Google.
Anchor texts – The last characteristic you can use for helping Google find your website is through Anchor texts. We will discuss them below in linking, but they are important on your site as well. The anchor text links relevant text on your website to a link to an outgoing link.
Step 4-Add backlinks to your website.
The next part of this guide comes with a big disclaimer. What we discuss here must be done in moderation. Google has several rules about how you can get backlinks to your website.
If you violate these rules, you could do as much harm as good to your search engine optimization. The best method is to add links in the natural marketing of your business.
The reason is simple. Backlinks improve your site's authority. The more links you get to your site, the more you can build your traffic through Google. However, it is not just a case of more, more, and more works best. You have to be careful about the type and ways you add backlinks to your website.
With that being said, here are a few good ways to naturally build your backlink profile.
Association Links – In your business, use the normal activities you participate in for additional links. Some of these links include association meetings, Chambers of Commerce, and networking groups.
Directory – Next, use reputable online directories for backlinks. If they ask you to pay for the link on a directory, go somewhere else. Sites like Angies Lists, Yelp, and DMOZ are great directories that help you improve your authority.
Guest posts – Another great way to get inbound content is through creating quality content on relevant industry and partner blogs. Instead of just building your own profile, piggyback off the authority of larger websites in your industry.
Social media – We discuss this more in the next section. For the moment, keep in mind that anytime you receive retweets, shares, and likes for a page on your website.
Related Resources