SEO 101: How to Get on the First Page of Google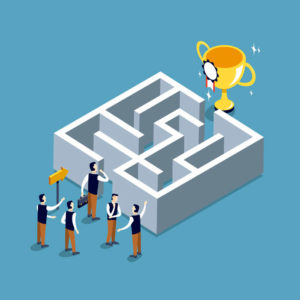 How hard is it to come up at the top of Google search results?
Without question, the rules for effective search engine optimization has evolved to a more complex marketing channel. As marketing professionals we need to refine our SEO processes multiple times a year.

Each year, Google changes its search algorithm around 500–600 times. While most of these changes are minor, Google occasionally rolls out a "major" algorithmic update (such as Google Panda and Google Penguin) that affects search results in significant ways.
Implementing new search engine algorithm updates, will keep your business at the top of search engine results in 2016.
Why your business should care about SEO
When potential customers are looking for your business services, 81 percent do research on search engines according to Ad Week.
Eighty-one percent of shoppers conduct online research before they make a purchase. Sixty percent begin by using a search engine to find the products they want, and 61 percent will read product reviews before making any purchase. On average, a consumer will visit three stores before making their purchase.
If you want to reach that audience, optimizing your website presence is important. SEO is essential in turning online traffic into potential customers for your small business.
You and I both know that there's a lot more that goes into a good SEO than the first few keywords that come to mind.
6 Ways to Get on The First Page of Google
In this blog post on SEO, you will learn six essential tips when it comes to showing up on the first page of Google.
Get Discovered with Local Keywords
Clean Up You Location Data
Intentional Website Structure
Focus on User Experience
Optimized for Mobile
Have Original Images
1. Get Discovered with Local Keywords
How do you find the best keywords for your small business? This is a question that clients always ask me.
They want to understand exactly how keywords work, and how they will make back their money from local search engine optimization and pay per click campaigns.
One of the most fundamental steps when starting your search engine optimization campaign in 2016, is finding targeted keywords that prospects will use when finding your local business online.
If you are just starting out its important to have realistic expectations on SEO. You are not going to rank #1 for your local business in your community overnight.
Naples lawyer
Naples attorney
law firm in Naples
Your best focus is to target traffic in the city tied to your companies business address. Targeting competitive regions should be done after basic SEO goals have been set and achieved.
2. Clean Up You Location Data
Moz conducted a survey in 2015 that listed off-site location signals as a major influence of search engine ranking.
As search engines, like Google, become more advanced they will rely on more offsite signals to determine the legitimacy of a business and local ranking of the businesses website.
What to do
Make sure your Name, Address, and Phone number is correct. Nothing kills your chances of success faster than bad contact information.
Make sure your website lists your NAP information (name, address, and phone number).
Verify on Google Maps
Unlike other aspects of Google search, Google Maps provide your company name, address, and a clickable phone number, so the 50% of Google local searches done via a smart phone can call you on the way to your store.
If you give a bum address or phone number, it severely diminishes your chances of a good ranking.
Get Reviews for your Google Maps listing. Next ask your current clients for reviews of your business.
According to a recent survey by Moz.Com, Google's algorithm gives 9.8% of the weight of your listing to the number of steady, quality reviews of your location.
3. Intentional Website Structure
Website structure for SEO purposes of your web site should help users find the information they want in the quickest possible way, this is your main objective.
What serves users well will naturally serve search engines too.
Essential pages trustworthy websites
About Us – A well designed about page improves the credibility and trustworthiness of a web site.
Contact Page – Should serve your visitors with pertinent contact information like email, phone and business address.
Privacy Policy – Search engines, like Google, like it when websites have a privacy policy in place.
Sitemap – Help visitors easily find and access all of your website content from one page. This would be different than an XML sitemap for search engines.
URL Structure: The format of your permalinks should describe the basis of the content of each webpage. If you have WordPress, opt to enable clean permalinks vs. id post permalinks.
Cornerstone Content: Website owners use cornerstone content to answer the fundamental questions their newest prospects have.
4. Focus on User Experience
The user experience has a direct impact on your website structure and site-wide SEO. Remember the goal is to give people what they want as fast as possible.
Delays or confusion due to poor UX can increase your bounce rate and conversions.
Original Content: Original content is becoming more important than ever. The more original content that you can produce, image, video, or written content, the more users with actionable intent will be attracted to your website. People like things that they can quickly digest.
Navigation: The navigation of your website should help first time visitors access information as efficiently as possible. Group related pages like products and services together so it makes sense.
Breadcrumbs: Try using breadcrumbs to inform visitors where they are and how they can get back to where they were. Its a visual back button that also helps search engines group our related content together effectively.
Search box: If you have a large site with deep content, try having a predominant search box for visitors to use. Sometimes search boxes are not practical if your site has just a few pages.
5. Optimize for Mobile
With mobile search becoming such a dramatic part of online search, it's absolutely crucial that you optimize your site in 2016 so that it is seen by searchers and engines.
According to Google's book, the top three positions on a search page matter even more in mobile world since the digital shelf gets really small on mobile devices.
6. Have Original Images
So how and why should you use images in your business communications, marketing and social networks?
60% of consumers are more likely to consider or contact a business when an image shows up in local search results according to this study.
Not surprising, the better the photo the more traffic it can drive to your website.
Naturally, this scares a lot of business owners. But image creation doesn't have to be scary. This article will guide you through everything you need to know to create amazing custom images without breaking your budget or taking up all your time.
Different types of Images
A. Public Domain Images (free). The public domain refers to images that are either very old or those that the creator has released into the public space.
These images are all free and safe to use and don't require you to link or give attribution to the creator (although you can if you want). Here are more resources for free images.
B. Creative Commons Images (free and paid). Creative Commons is a non-profit organization that provides licenses to all types of creative work, including images.
The images you find in Creative Commons are usually higher quality than public domain pictures and sometimes on par with paid images.
C. Stock Images (free and paid). Stock images are created by professionals. They are typically very high quality photos.
While public domain and CC images have their time and place, most of your images should be stock images.
Conclusion
A good SEO strategy will not only benefit your sites placement in search engines, but also the usability of your site.
It's one thing to get people to your site, its another thing to monetize that traffic effectively.
If you are committed to developing good SEO practices, you will get to the top of search results in 2016. Which of these SEO tips can your website use today?